What is Industry 4.0 and where does the term come from?
The term Industry 4.0 was coined during the Hannover-Messe technology fair in Germany in 2011, although it was at the same fair in 2013 when the German government presented it as an initiative to improve the industrial fabric and with the aim of providing greater flexibility and individualisation of production processes.
The founding document of Industry 4.0 and the associated platform (Platform Industrie 4.0) called Recommendations for implementig the strategic initiative Industrie 4.0 was drafted by Acatech (German National Academy of Science and Engineering) and presented in April 2013. https://en.acatech.de
The concept of Industrie 4.0 is thus based on a profound process of digital transformation of Industry, the fourth industrial revolution brought about by advances in information and communication technologies.
Historically, the industrial revolution is the period in which a process of economic, social and technological transformation took place, which began in the second half of the 18th century in Great Britain, and which was reproduced decades later in much of Western Europe and America.
This period saw the greatest economic, technological and social transformation in the history of mankind since the Neolithic period, which saw the transition from a rural economy based primarily on agriculture and trade to an urban, industrialised and mechanised economy.
This transformation has been called Industry. 1.0 to give way to the following transformations that changed the productive environment.
But industrial digitalisation already had its antecedents before the Industry 4.0 concept was formulated. The introduction of automatons and robotics was already widespread in the most demanding environments such as the automotive industry.
The next challenge was to interconnect, visualise, understand, anticipate and make a production system self-adjusting to the conditions.
The challenge was there, to grow in these areas that would make industrial environments capable of evolving and adapting to changing economic times and market demands.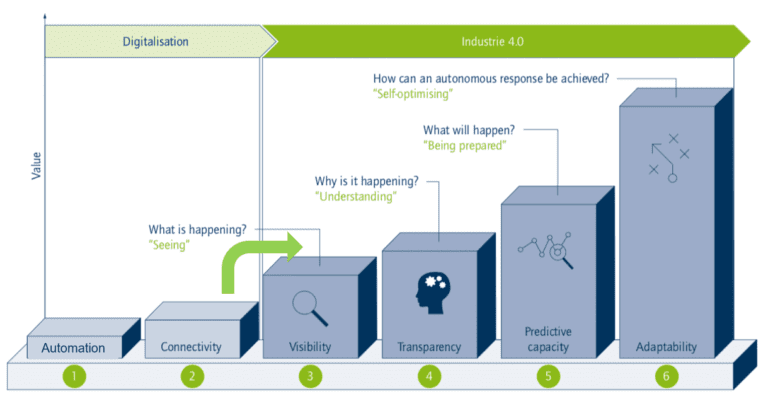 Focus areas of Industry 4.0
Monitoring.

Sensorisation, data capture and analytics will improve the ability to see and understand processes.
Technologies: IIoT, Big Data, AI, predictive and proactive maintenance.
The main need of any production environment, as we showed earlier, is to gain in visualisation in order to know and understand the process better. Obtaining a large amount of data from various sources allows the process to be better contextualised and the application of advanced analytics and AI will allow measures to be applied to correct defects, anticipate them and optimise consumption of material or resources.
Simulation.

It is not necessary to wait for an event to occur before taking action.
Technologies: Digital Twin, Virtual Reality (VR) and Augmented Reality (AR).
In so-called mass production, optimisation is the big challenge. The operational margins of the products are very small and therefore there is very little capacity for cost deviation. Improving productivity means anticipating to minimise or eliminate the dreaded "unscheduled downtime" in mass production. "Unscheduled downtime" on a production line.
The acquisition of a large volume of data together with the computational and analytical capacity, makes it possible to virtually reproduce not only assets but also processes or systems. This. Substantially improves the ability to anticipate events and take action to avoid them.
Zero-defect manufacturing.

Claim of very demanding environments such as aeronautics, automotive or railways.
Technologies: IIoT, interconnection of systems, data analytics.
For years now, in safety-critical sectors, a large number of controls have been implemented to limit the possible failures of the most sensitive elements. This supervision was done by the final assembler, but this meant a great effort of coordination and consequently an increase in costs.
Subsequently, these control systems were transferred to the members of the supply chain to homogenise and dilute costs, but this represented an increase in errors and bidirectional management that generated a great deal of complexity. Intelligent production coordination systems bring together information from the initial design phase through to after-sales and/or end-of-life.
This makes it easier and more consistent to close any gaps that may exist, bringing traceability to the heart of reliability.
Customised manufacturing.

Companies need to improve their offer, customising the products they sell. Automotive, retail, textile.
Technologies: Adaptive production models, production scheduling management, additive manufacturing (3D printing).
Customers have always had the aspiration to personalise their purchases beyond the catalogue offer that any company has. Likewise the just in time model tried to alleviate the problem of stocking large quantities to ensure supply and cost. Flexibility was the most desired feature in order to be able to meet new customer demands and even improve demand.
This means having production machines capable of changing production orders more quickly and even being able to individualise an order (e.g. fashion). More efficient coordination with production order management systems, complete coordination of production lines, allows shorter series to be produced. In addition, the emergence of additive production systems makes it possible to create unique products from almost any material.
Energy efficiency

Bringing energy costs to optimal levels to improve profitability.
Technologies: IIoT and monitoring, integrated management, Smart energy.
Reducing production costs is not only about optimising the amount of material used or labour costs. It also involves acting on the highest operating cost of any production centre: energy.
Energy efficiency means having the capacity to analyse the energy consumption that is being produced and to optimise it.
Improvements in the capacity to collect information on consumption at any point by means of increasingly larger and cheaper devices, as well as their monitoring and intelligent analysis, have made it possible to rationalise this consumption in order to reach an optimum point.
The emergence in industry of a multitude of solutions that address each of these areas from different perspectives, and many others that complement them, is allowing the sector to move ever closer to the objectives of Industry 4.0.
But there is still a long way to go, and it is necessary to understand from a global point of view that digitalisation is a unique way to turn current production systems into a reality.
Our expertise in the Industry 4.0 sector
At Springboard35, as an IT Business Development consultancy, we have been helping technology companies with innovative solutions for the industrial sector to expand in the markets of Southern Europe and Latin America for many years.
Our added value lies in the recruitment of specialised technical talent, with a background in the industrial sector and a very meticulous training in commercial consultancy and consultative sales, having developed over the years our own successful methodology that has allowed us to stand out and verticalise in this sector.
From IIoT solutions (Industrial IoT), AI or data analytics, we have boosted a multitude of technology startups and scaleups, allowing them to grow quickly, agile, safe and sustainable, optimising their commercial investments and allowing them to achieve their expansion goals.
If you also have a technology company with an innovative and disruptive solution (or several) for the industrial sector and you would like to increase your sales, you are in the right place; contact us at info@springboard35.com or through our web form and find out how we can help you grow in your current market or launch your solution to new markets… What are you waiting for?